Service
Arrival- and Departure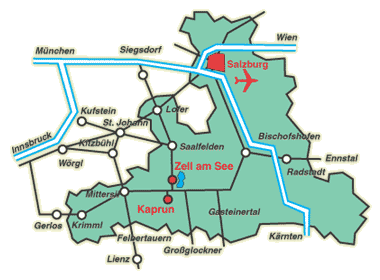 General terms and conditions will present detailed information concerning this subject.
Our address:
Hotel Neue Post
Schloßplatz 2
A-5700 Zell am See
Austria
Geo coordinates:
N 47° 19' 21.8316" E 12° 47' 50.1719"
For arrival by train, see www.oebb.at
We will be pleased to organize you a pick-up service from the airport with one of our partner taxis.
Check in: from 15:00h
Check out: until 11:00h
Aquarena/Spa
Relaxing and wellness daily between 3 p.m. and 8 p.m. at the Aquarena downstairs from the reception.
Please notice: After 5 p.m. this area is reserved for adults only and the indoor area becomes a naked-bathing area.
Booking Request
Booking through our website will be guaranteed with a deposit only and a booking confirmation by the Hotel Neue Post Erwerbs- und BetriebsgmbH
The Hotel Neue Post Erwerbs- und BetriebsgmbH reserves the right to sell the listed offer to somebody else in the meantime.
Holiday Apartment Alte Post
The Apartments are located in the heart of the city at the town square and only a few meters from the hotel itself. They are kept by the hotel, but are however NOT part of the establishment.
Fitness Room
Our fitness room is located right next to the Aquarena in the basement floor. Stay fit with our fitness and cardio equipment. However, please note that due to safety precautions, the gym is not for children's use.
Garage
The garage is located underneath the Congress Centre and our house, with direct access to the hotel. A fee of € 16,– per 24 hours is to be paid.
You will receive your ticket at the reception.
Pets
Dogs and other pets are not permitted in the hotel. However you are welcome to stay with them at the Neue Post Apartments.
Credit Cards
We accept VISA, Eurocard/Mastercard and Maestro debitcards.
Visitor's Tax
Visitor's tax is not included in the room price (€ 2.05 /person a day).
Pedicure & Cosmetics
You will find the pedicure and cosmetics room in our Aquarena. We would be happy to organize an appointment for you with our beautician Monika Riss, please contact reception. Further information and brochures about all cosmetic treatments are also available at the reception.
Swimming Pool
There is a whirlpool in the Aquarena as well as one heated outdoor pool with a length of 12 meters.
Poststöckl
The apartment house Poststöckl is located at the very centre of town, opposite of the hotel entrance. The hotel Neue Post is in charge of these apartments, they are however not part of the hotel.
Smoking
Smoking is not allowed in the hotel. Please note that in case of a violation of these rules, we will have to charge an extra cleaning fee of € 100.– for curtains.
Reception
The reception is open daily between 8 a.m. to 9 p.m.
Sauna
Opening hours for sauna and the Aquarena are daily from 3 p.m. until 8 p.m., children under the age of 12 may enjoy the Aquarena between 3-5 p.m. Please notice that the sauna is a naked zone only. Sauna towels are offered at the reception free of charge. Showers are a must before and after using the sauna. Please also take note of our bathing rules, further down.
Ski Room
There is an own entrance in front of restaurant Cäsar. The room is locked and can be unlocked with your room key. An extra lock for skis boards and shoes is recommended to prevent mixing up of other belongings. Please do not enter the lobby in ski/snowboard shoes.
Ski Passes
Information regarding the skipass can be provided at the reception.
Ski Rental
You need ski or snowboard equipment? Get it at SkiPro.
Team
We strive towards your well-being and hope that you will be feeling perfectly happy in our house. You are more than welcome to contact any of our employees with any or requests you may have. We will try to fulfil any of your wishes as fast we can.
The following chart will introduce you to our highly motivated staff as well as highlight some of their key capabilities and responsibilities.
Reception

Maria Färbinger Laura Kupferschmidt

Laura is a traveller at heart and knows all the good action and fun spots of Zell am See. Her international background and multi lingual way of life allows her to understand international needs and is more than glad to get in touch with you!

Sacha Visschers

Originally dutch! She spend most of her life in Germany before she decided to move to Austria`s most beautiful destination: Zell am See. She knows the city and all of its touristic highlights better than anyone else, and as special feature, she really knows the dutch community. A real pro, at the reception and in all touristic matters.
Restaurants

Bonev Boncho & Team

If you return home with some extra kilos from good food, Bonev and his team will be to blame
Floor

Beyhan Sahin & Team

Mistress over the floors and master of decorations. Hardly seen but their work will be appreciated all the more. Together they ensure a well-bedded stay in the Hotel Neue Post.
Maintainance

Thomas Schwab and Team

The masters of the house. They are in charge of maintenance and repair, and gifted in providing practical solutions.
Management

Silvia Bruckner

Our treasurer. Not a single cent escapes her scrutiny.

Harald Bruckner

Handyman. If something doesn't work the way is should – it's his fault! His regular occupation is janitor, however his side-line is CEO.
Telephone
Every room contains a telephone for in- and outbound calls.
To reach the phone from outside, use the phone number of the hotel and add the room number.: i.e: 0043–6542–73773-xxx (xxx = Your room number)
Rooms & Apartments
Rooms
All rooms and apartments are four-star rated, with cabel tv, radio alarm, phone, internet access via WIFI or modem, refrigerator (rooms with kitchen). Also available are water boiler, coffee/tea packet, bathrobe, hairdryer, hygiene supply.
Photos of rooms on this website are samples. Rooms can differ slightly.
Double rooms come with an austrian double bed (separate mattresses), double bedrooms contain two single beds with a distance of at least 40cm, but can be put together.
Suites with kitchen block are available on request. Kitchen usage will be charged once. Cleaning of the kitchen and dishes is not included in the standard cleaning, and can be booked extra. The kitchen offers a refrigerator, two hot plates, microwave ofen, sink, water boiler, cookware and dishes.
Apartments
All B and C apartments contain a kitchen row with two hot plates, refrigerator, sink, microwave oven, water boiler, cookware and dishes. Default occupancy: 2 people.
All D apartments contain a kitchen with four hot plates, oven, refrigerator, sink, microwave oven, water boiler, cookware and dishes. Default occupancy: 4 people.
Apartment prices include a daily basic cleaning (empty trash, vacuum cleaning, change towels) and full cleaning twice a week (change bed sheets). Daily full cleaning can be booked.
Cleaning of dishes is not included but can be booked extra.
More Information
Please, contact us if you have more questions
Parking
All of Zell am See and the surrounding area is a short-stay parking zone. The cheapest parking is in the hotel garage at 16,- per 24 hours.
Parking Information
Short parking zones on the street:
Paid parking: Mo. - Fr. 8.00 - 18.00 + Sa. 8.00 - 12.00
Max. parking time: 180 min.
0-51 min. = € 0,50
54 min. = € 0,60
57 min. = € 0,70
60 min. = € 0,80
etc. up to max.
180 min. = € 4,80
Parking fee reulations
Rathaus- and Congressgarage
Per hour or part thereof: € 3.80
Daily maximum (24 hours): € 38.00
Long-term parking/Mo: € 112,00
https://www.apcoa.at/parken/zell-am-see/rathaus-zell-am-see-apcoa/
Parking garage Centrum (Saalfeldnerstraße 2)
Per hour or part thereof: € 2,30
Daily maximum (24 hours): € 20,00
Night tariff (7 pm – 7 am): € 6,90
Information on mobile phone parking in Zell am See